After my Purple Friday dress, it feels great to be a in a bold and graphic print!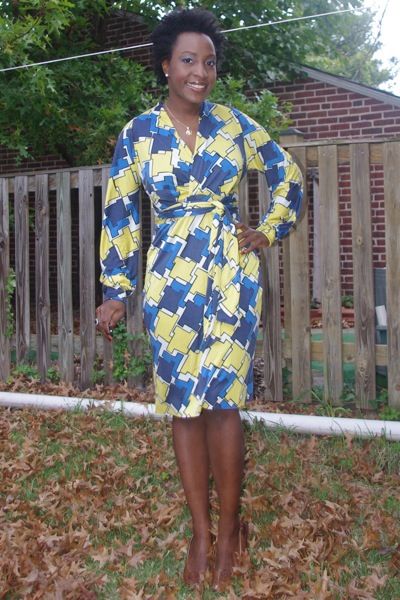 But, let me tell you. This was the slowest silk sewing, evah. Let me splain.
This is my second time sewing with silk jersey. I first saw this fabric in store at Mood Fabrics back in August. I loved the blue and gold because they are my sorority colors and I knew I could get some good wear out of it during chapter and regional meetings. Since the silk was 45″ wide, I bought five yards at $25 a yard.
This Prairie NY silk jersey presented some new challenges for me. My serger just wanted to eat this material. I tried both stretch and ball point needles and my overlocker was having none of it. My sewing machine was punching holes through the jersey using both stretch and ball needles. I wanted to cry. I think I may have. I posted on Facebook and had some superhelpful responses. I went out and bought microtex and titanium needles. Both sewed through the silk like a knife through butter. It's my first time experiencing this. But, again, only my second time with silk jersey.
I did a lot of handtacking of the collar to keep it in place. In a similar dress to this from Burda, there is interfacing throughout the facing and collar. I think this is what I would do next time. I don't like the limp feeling of the drape.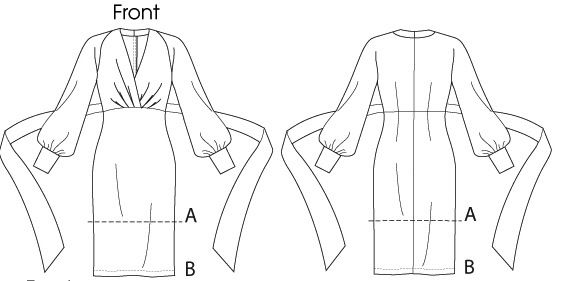 I took two inches off the hem and decided not to 'finish' the hem. I made my usual alterations of a slight FBA and a big swayback adjustment. I sewed a 12 and the fit seems to be good. I am very self conscious about my saddlebags, so a slip in this dress was a must.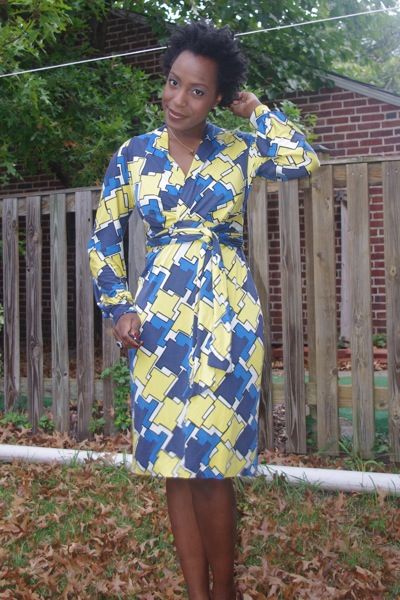 The print is pretty bold. And, for a hot second I thought about trying to match the motif. But, decided not to bother.
There is some mirroring on the upper back. Trust me, I can live with it.
The skirt could probably be cut on the fold, but for my swayback adjustment purposes, I'm fine with a center back seam.
If you see my cuffs, they are folded under toward the inside. On PatternReview.com I read some people took length out of the sleeves.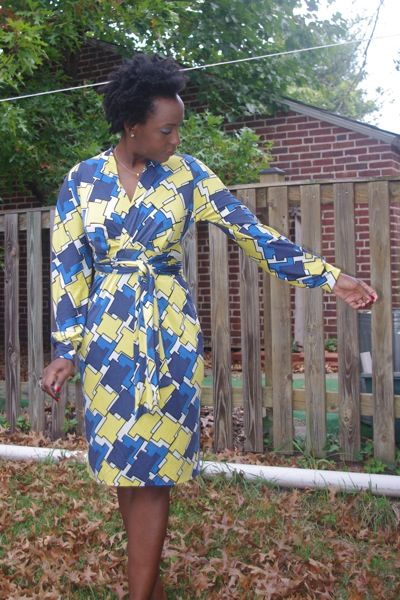 I thought the length was fine, but the cuff a wide for my taste. So, I'm folding it back.
Overall, I'm thrilled. This dress is *so* me. It's body conscious without being tacky, the bold print, the shape of the skirt, the full sleeves. The silk. Man, the silk. I want to have a work week of silk jersey dresses. It's so luxe. I love that I'm wearing a dress that would start at retail around $300. Absolutely worth the investment.